New router
I've always been a belkin person when it comes to network adaptors and routers, but I've never been happy since I first bought the Wireless G Router ver 4000uk some 18 months ago now. Unlike the previous the ADSL wireless routers I've had in the past this one had just a single aerial, and despite living in a small flat, I found it hard to get a decent signal even in the room next door. My Imp internet radio in the kitchen would frequently buffer mid-stream, and the final icing on the cake was the frequent random disconnects I was getting, whereby the entire router just seemed to drop off-line. I'm sure it's something to do with interference, but after trying to endure it for several months I'd had enough.
In the sales I bought a Buffalo Airstation Wireless-G 125* High Speed Broadband router (WHR-KG54S). It's a typical cable modem router, with the all the general kind of things you'd expect - DCHP server, supporting WPA-PSK (both TKIP and AES, which is useful as I still need TKIP for my internet radio), as well as the older WEP security mode. I haven't really been able to test the High Speed as claimed, mainly because the adaptor included needs USB 2.0 of which I have none! So I'm stuck at 54mbps just like before. Actually the inclusion of 54 in the version number is a bit confusing - perhaps this isn't a 125mbps model at all?!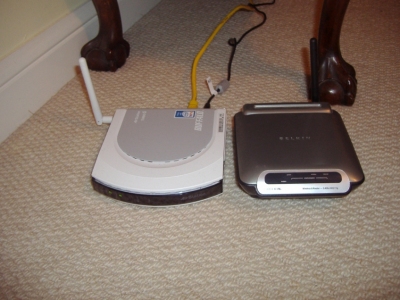 The Buffalo on the left and the old belkin on the right
Install of the router was a doddle, it detected everything itself. Just a change of security to WPA-PSK at TKIP with my desired password, tweak my original adaptor to the new network name, and done. The default network name of the Buffalo is it's MAC address, which is a bit bizarre, but this can be fairly easily changed using the browser administration utility.
Apparently the router is Nintendo DS compatible (I've not got a multiplayer DS game yet though so I can't test), through AOSS setup button - so I'll see how that works in the future.
I've started using the included network adaptor (Buffalo Turbo-G 125* Wireless USB 2.0 Keychain Adapter), but it behaves no better or worse than my old internal wireless adaptor. The software utility is a bit more user-friendly, but that's it really.
So I'm really quite pleased. It looks good, is very nice narrow and discrete. Easy to set up and great value for money. Router and adaptor for £40.00. And so far it's behaving in terms of the network staying up, remaining on the set channel, interference wise, etc. I guess the only thing I'm wondering is about the rated speed - and how much faster it really is.
Labels: buffalo, internet radio, router, wireless