Squeezebox wireless music player
Last year, following the sad death of my Imp wireless internet radio that I got
back in 2008
due to a power surge, I decided to 'upgrade' to a digital music player or streamer as they are sometimes known. I did a fair bit of research in order to figure out exactly what I needed. In the end I plumped for the
Logitech Squeezebox
that I managed to get for around £140.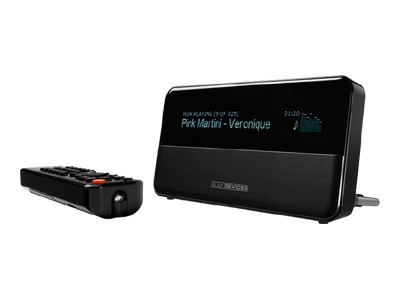 It's brilliant. Why? Well it basically plugs into any stereo system that has the ability to allow for audio in (any decent stereo will) and is then able to play either internet radio, mp3's from your host computer, or even dial into other content available on the internet. As my PC is on most of the time anyway, this means I have access to my entire music collection on my home stereo.
It also looks great. The little black box sits atop the stereo, and is essentially a large screen at the front, controlled through the remote control. The navigation system takes a little while to get use too: you navigate through the menus using the right arrow as next and the left arrow as back, but after a while it is actually very functional. But the best functions really are the search and the ability to shuffle your entire collection of mp3s. This makes it especially good fun when entertaining guests as you go from one extreme of your music collection to another.
Installation really is as straight forward as I make it sound. Plug it into the stereo, install some software on your home PC, fire it up, connect to the wireless network (it supports WPA encryption) and start using it. Connecting to your music library is pretty simple too, although for it to work perfectly a little effort is required. Why? Well, it uses the ID2 or ID3 tags in your MP3 files to catalog the music, so that it is searchable and browseable using the remote control and the music player. This meant I had to do a little bit of tedious sifting and editing of these tags using a freeware utility called
mp3Tag
. This lets you edit all your files quickly, preventing the oh so annoying duplicate artists appearing in the browse list because one has a capitalised letter someplace and the other does not!
There are alternatives of course - for example the very similiar offering by
Phillips, the NP1100
is very similar at much cheaper, but is apparently not of the same build quality as the squeezebox. Nor is the supporting software nearly as good.
I'll post some further articles about it on here over time, including taking a look at the squeezebox families new offering - the
squeezebox duet
which is the newer version of what I have now.
Labels: freeware, internet radio, logitech squeezebox, mp3, wireless music player