Tackling Kilimanjaro.. it begins here..
It was decided during this long and cold month that next year my dad and I will be making an attempt on Kilimanjaro, Africa's highest mountain and (apparently) the world's highest free standing mountain. I've already managed to collect a number of trekking brochures and guide books on Tanzania and the Kilimanjaro mountain, but what better way than to begin exploring it in a virtual globe?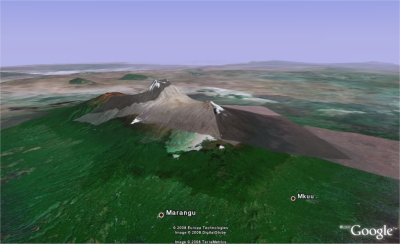 Looking over Kilimanjaro to the Serengeti plain in Google Earth.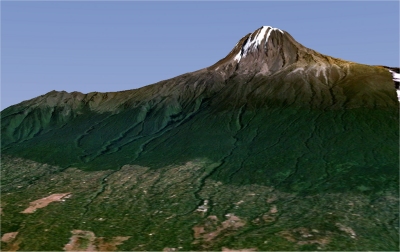 Looking up Kilimanjaro over the Machame trail in NASA's World Wind
Over the next year I'll hopefully be blogging about my preparations for this 'trek-of-a-lifetime' and I'd really apreciate if readers who have been there before left me comments and suggestions on what (and not) to do. I'll compile resources, hopefully plenty of Kili related KML and other Google Earth, Worldwind and other GIS'y related news items. And I'll try my best to take a GPS unit everywhere I go between now on my training preparations to the final step back off the mountain after our achievements (fingers crossed).
Also a quick mention to the
Google Earth Blog
who gave me my first bit of 'mainstream'
blog publicity
through the middle of January. Thanks Frank.
Labels: google earth, gps, kilimanjaro, worldwind