Virtual walking in Scotland
A few weeks ago I was pondering to myself why nobody had done anything clever yet in terms of getting many of Scotland's hill walking routes up on the web. There were plenty of amateur sites giving route descriptions and photos, or with snippets of OS maps included, or showing the rough location of the hill the walk focussed on - but none that went the whole hog.
For me the biggest bug bear is always figuring out from where a route starts, which is especially an issue if, like me, you are too tight to buy a walking guide, OS map etc. A motoring map or atlas just doesn't cut it when it comes to finding out where to park, what route to take etc.
OS mapping is now of course fairly freely available via
OS's GetaMap
,
Multimap
or various other mapping services - but it doesn't resolve the problem of where routes start, finish and roughly go on your now freely obtained OS printout.
Then Stefan at
Ogle Earth
posted
about an email he received from the author, Paul Webster, of
Walk Highlands
- an online site of hill walking knowledge, with some great route descriptions (hundreds!), photos and for me, best of all, some awesome KML displaying these routes. I think it's a fantastic tool - my only qualm - I'm based in Edinburgh, and the areas he's left out for now are the ones nearest me! But not too worry!
The site is marvelously simple to navigate too, and packed full of information, from where to stay, what to do with your GPS device, what to make of the weather reports(!) and what else to see and do. There's a forum for general community stuff too. It's a little bit Isle of Skye focussed, but I'm sure it will expand if the demand is there. And if he manages to sell a few Amazon books out of it in the process (through the built-in Amazon shop/affiliate shceme), then fair enough for paying for the hosting costs.
But for me, the best bit is the KML. Below is a sample of one of my favourite routes on Royal Deeside - Lochnagar - a route I've taken a few times myself (
see route description and photos
). The routes are coloured according to their grade, from easy to hard, there is the odd photo included plus a few other bits of information including a 'boggyness' scale.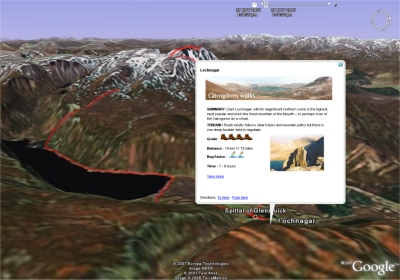 Walkhighlands.co.uk KML sample
So no more excuses about not making it to the hills more often. This weekend I'm going. Honest!
Labels: google earth, gps, hill walking, kml