People's map BETA & new Yahoo maps
From an email I received last night, it looks like
The XYZ Digital Map Company
, a business based up here just outside Edinburgh, have made a new service available called
People's Map
.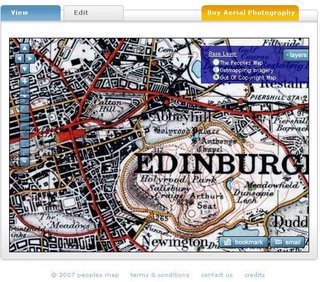 While it looks and feels much like all the other google maps clones, it allows you not only to access the "people's map", a nicely designed map product - but also to access other layers such as the out of copyright 1920's Ordance Survey Map or high resolution getmapping imagery of the entire United Kingdom. Tbe photo below shows the harbour at Portree on the Isle of Skye for instance.
And why is it called People's Map? Well presumeably because XYZ plan to allow people to be able to edit and correct the maps themselves (a bit like wikipedia). Currently this mode isn't available yet, though they allow you to register on the page and be informed when this feature does become available. You can also buy aerial photography of your selected region (via getmapping).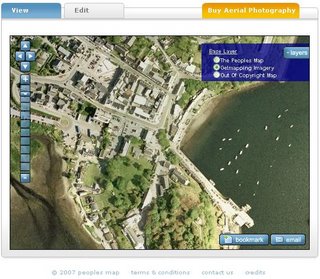 For those wishing to use it as part of their websites, it is possible to pass parameters in the URL. The man behind it all, Tim Rideout, is presenting at the
GISupdate conference
here at the University next week, so I'm sure I'll hear more about it then.
I wanted to cover
the rumour and news
of Google buying up all of the SPOT imagery, but can't find anything official on it. Or more substantive. Or I'm not looking hard enough.
Instead, news of
Yahoo Maps'
fresh new look. Most of the changes are covered on the
blog
, but it struck me that suddenly the interface feels much cleaner, crisper and ultimately more useable. Glad Google is getting decent competition. Aerial imagery for a lot of Europe is terrible though!
Labels: google earth, people's map, yahoo maps