Internet Radio
I listen to a lot of internet radio, primarily a dutch channel called
538
. But I'd really like to be able to stream this to a receiver in another room, be it the kitchen when I'm cooking, or the lounge to relax. In addition it would be nice if I could stream the now vast collection of media I have stored on my pc directly to another room. There aren't that many options available at present, but I'll list below all the ones I have found so far: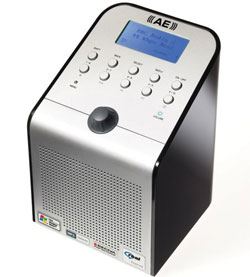 First up, the Wifi Internet Radio, by Acoustic Energy. It's retailing around the £160-170 mark, offering streaming in a range of formats (Real Media, MP3, WMA & AAC). It provides the ability to connect to open and WEP encrypted wireless networks, independant of a PC.
Available from:
Overclockers
,
Superfi
,
Amazon
,
Dabs
£148 ex del
Next up is the BT offering, the
BT Internet Radio
retailing around the £150 mark. Again, it claims to handle WEP and WPA encryption, and supports Real Audio, and media player formats (Real audio, WMA, MP3, AAC, AIFF & WAV). Cheapest place to buy I can find is direct from BT, so use the link above.
Then we have
The Imp
retailing around £150. It supports Real Audio, Windows Media, Mp3 and AAC, and WEP security (Not sure about WPA). There is also a related product which plugs into your home audio system, enabling you to stream internet and audio wirelessly to these devices (£99).
There are also offerings from a few other makes, though they do not seem as popular.
For instance:
-
Logik IR100
- bit ugly looking but priced around £100
-
Squeezebox Wireless Network Music Player
- Very cool, but pricy (£210)
-
Bush Internet Radio
- around £120 from Argos.
Labels: internet radio, wifi radio