Viewshed calculations HeyWhatsThat, Dull and XML editors
Ogle Earth
finds another gem in the form of
HeyWhatsThat.com
, which uses the SRTM data that is available with GE, to perform viewshed calculations. It can output directly to Google Maps, where it draws a 360 degree panorama that interacts with the google map interface. It also identifies the peaks visible from your position, and you can highlight the entire viewshed in red.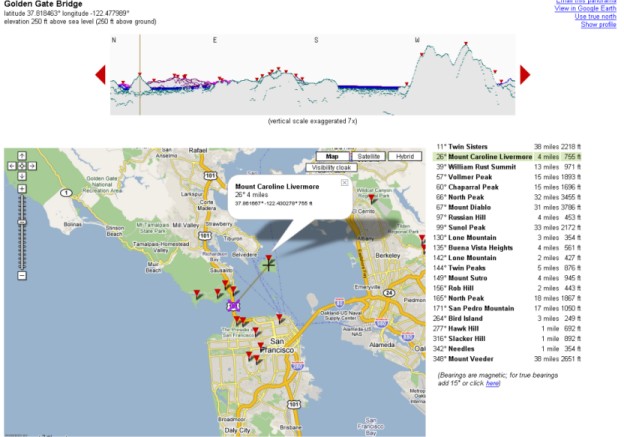 You can also import the entire set into Google Earth, to, I suppose test if the algorithm is correct. Very very cool.
Another useful thing I saw related to education, was
a post
on
slashgeo.org
concerning the use of
Skype
to control virtual globes on another computer.
Unype
allows two (or more?) users to interact with each others globe, showing them around, and so on.
GE Blog reviews
and also has a video.
But anyway, after having criticised
the Gazetteer for Scotland
in an
earlier post
, I suppose I had better make amends! I was
of course
referring to
the village of Dull
in Perth and Kinross. *cough*
I did some work getting XLST to work today, with limited success. I did after hacking up a quick XML sample of one of the Gazetteers pages, manage to reproduce a html document with some images from that XML source using XLST. The plan is to produce some samples for use in my presentation on Monday, perhaps an html document with two seperate stylesheets, and maybe KML, to demonstrate how powerful XSLT can be.
The only major problem I've had is in my search for a good editor. I decided to start off simple with Microsoft's
XML Notepad 2007
. At first glance it did exactly what I wanted it for, but it has some really annoying bugs, especially that you need to close and re-open the XSLT stylesheet everytime you want to re-transform (the copy must be cached inside). So that was useless.
I then tried
Oxygen
. This was complete at the other end of the scale. Not only do I just get a 30 day trial, but it's also so incredibly complex with so much functionality that I really don't need. Having said that, it worked quite nicely if you ignore _all_ the functions and just use it as an editor, and as a tool for running the XSLT.
Anyone have better suggestions?
Labels: education, gazetteer for scotland, google earth, google maps, visualisation, xml